June 15 - TRAP SEOUL: A Koreatlantan Dinner Experience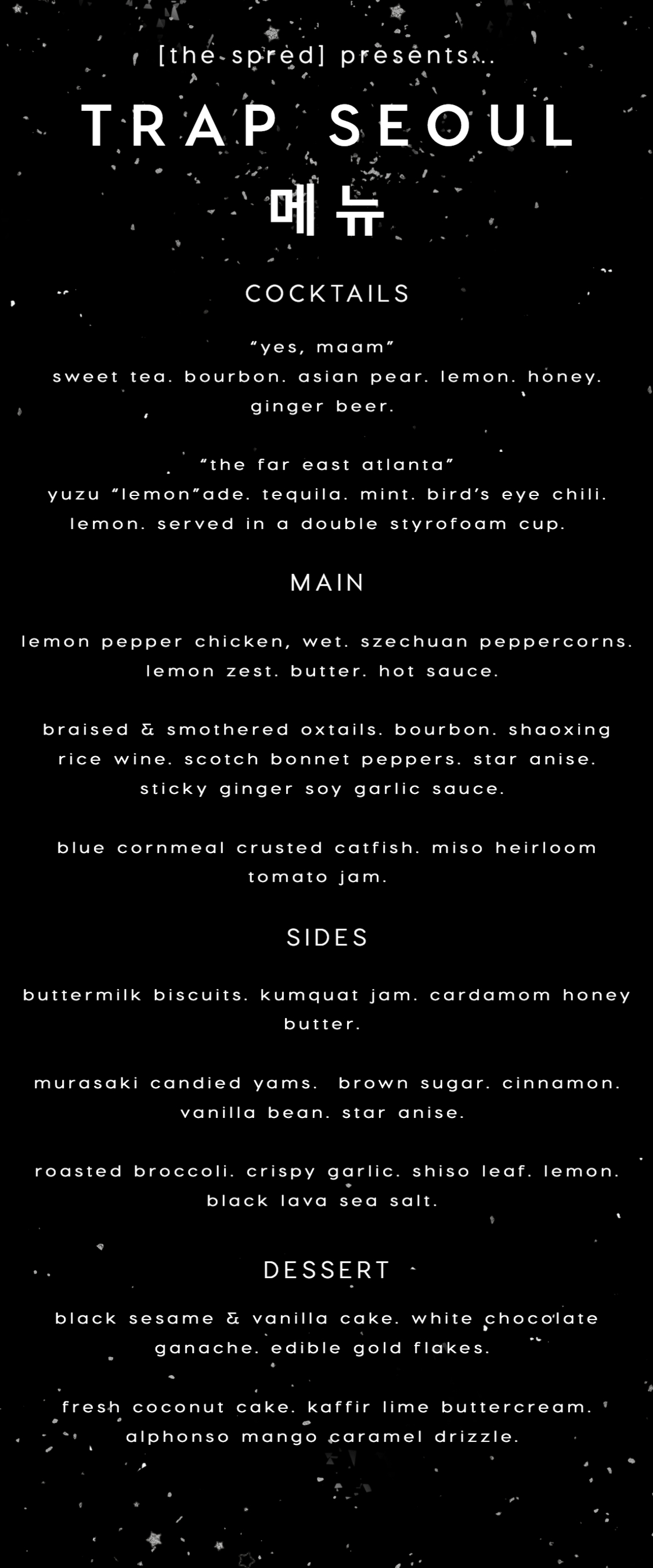 June 15 - TRAP SEOUL: A Koreatlantan Dinner Experience
Saturday, June 15th 7:00 - 11 p.m.
$30 per guest- includes unlimited signature cocktails.
2 Union Street
Jersey City, NJ 07304
The menu is inspired by classic Korean flavors with Southern-nouveau twists.
Dinner is served at 7:30 p.m.
cocktails:
"yes, maam"
sweet tea. bourbon. asian pear. lemon. honey. ginger beer.
"the far east atlanta"
yuzu "lemon"ade. tequila. mint. bird's eye chili. lemon. served in a double styrofoam cup.
main:
lemon pepper chicken, wet. szechuan peppercorns. lemon zest. butter. hot sauce.
braised & smothered oxtails. bourbon. shaoxing rice wine. scotch bonnet peppers. star anise. sticky ginger soy garlic sauce.
blue cornmeal crusted catfish. miso heirloom tomato jam.
sides:
buttermilk biscuits. kumquat jam. cardamom honey butter.
murasaki candied yams. brown sugar. cinnamon. vanilla bean. star anise.
roasted broccoli. crispy garlic. shiso leaf. lemon. black lava sea salt.
dessert:
black sesame & vanilla cake. white chocolate ganache. edible gold flakes.
fresh coconut cake. kaffir lime buttercream. alphonso mango caramel drizzle.